規格:
重量:149克
尺寸(長x闊x高):34x75x166毫米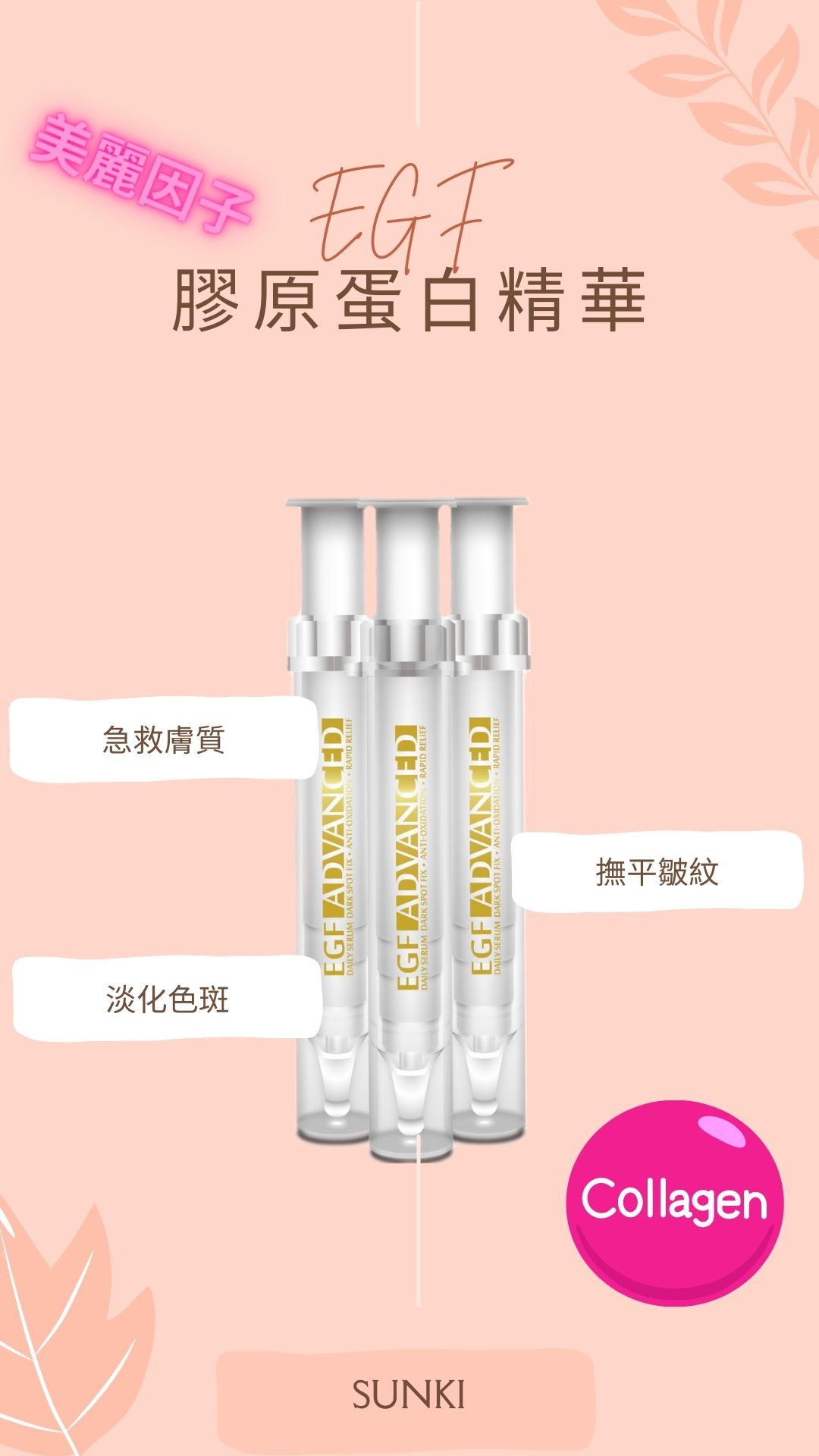 EGF全名是表皮細胞生長因子,美國科學家發現EGF的存在和萃取可直接促進皮膚的生長,並使細胞逆分化、年輕化,為細胞研究開闢了一個具有廣泛重要性的新領域。它是一種人體本身就能夠產生的活性因子,下達自療的命令,使細胞加速生長並年輕化。更榮獲了1986年的諾貝爾生物醫學獎,所以譽為「美麗因子」。
左手香,原產於南印度的一種草藥,可改善皮膚,促進排毒,是天然消炎聖品之譽有緩發炎解疼痛保健功效!
三胜肽及九胜肽,取於純天然草本植物中提取的綠色胜肽,含大量的真皮修護因子和活性細胞分子,能有效抑制肌膚表層茶酚胺及乙酸膽碱的含量,徹底解決粉刺、痤瘡及色斑等皮膚軟組織層受損問題,同時具有抗自由基、抗氧化、抗癌、美白、保濕、滋潤作用!而且絕對安全及無毒!
主要成份:純水、玻尿酸、三胜肽、九胜肽、EGF及左手香提取油。
Specification:
Weight: 149g
Dimensions (LxWxH): 34x75x166 mm

EGF, short for epidermal growth factor, was discovered by American scientists to promote skin growth and cell rejuvenation through direct extraction. It is a naturally occurring active factor in the human body that commands self-healing and accelerates cell growth and rejuvenation. It has won the Nobel Prize in Physiology or Medicine in 1986 and is known as the "beauty factor".
Indian frankincense, a herb originating from South India, is known as a natural anti-inflammatory and detoxifier that improves skin health.
Tripeptides and nonapeptides are green peptides extracted from pure natural herbal plants, containing a large amount of dermal repair factors and active cell molecules that effectively inhibit the contents of melanin and acetylcholine in the skin surface, solving problems such as acne, pimples, and dark spots. They also have anti-free radical, anti-oxidation, anti-cancer, whitening, moisturizing, and nourishing effects, while being absolutely safe and non-toxic!
The Main Ingredients:Pure water, hyaluronic acid, tripeptides, nonapeptides, EGF, and Indian frankincense extract oil.