規格:
重量:299克
尺寸(長x闊x高):59x59x167毫米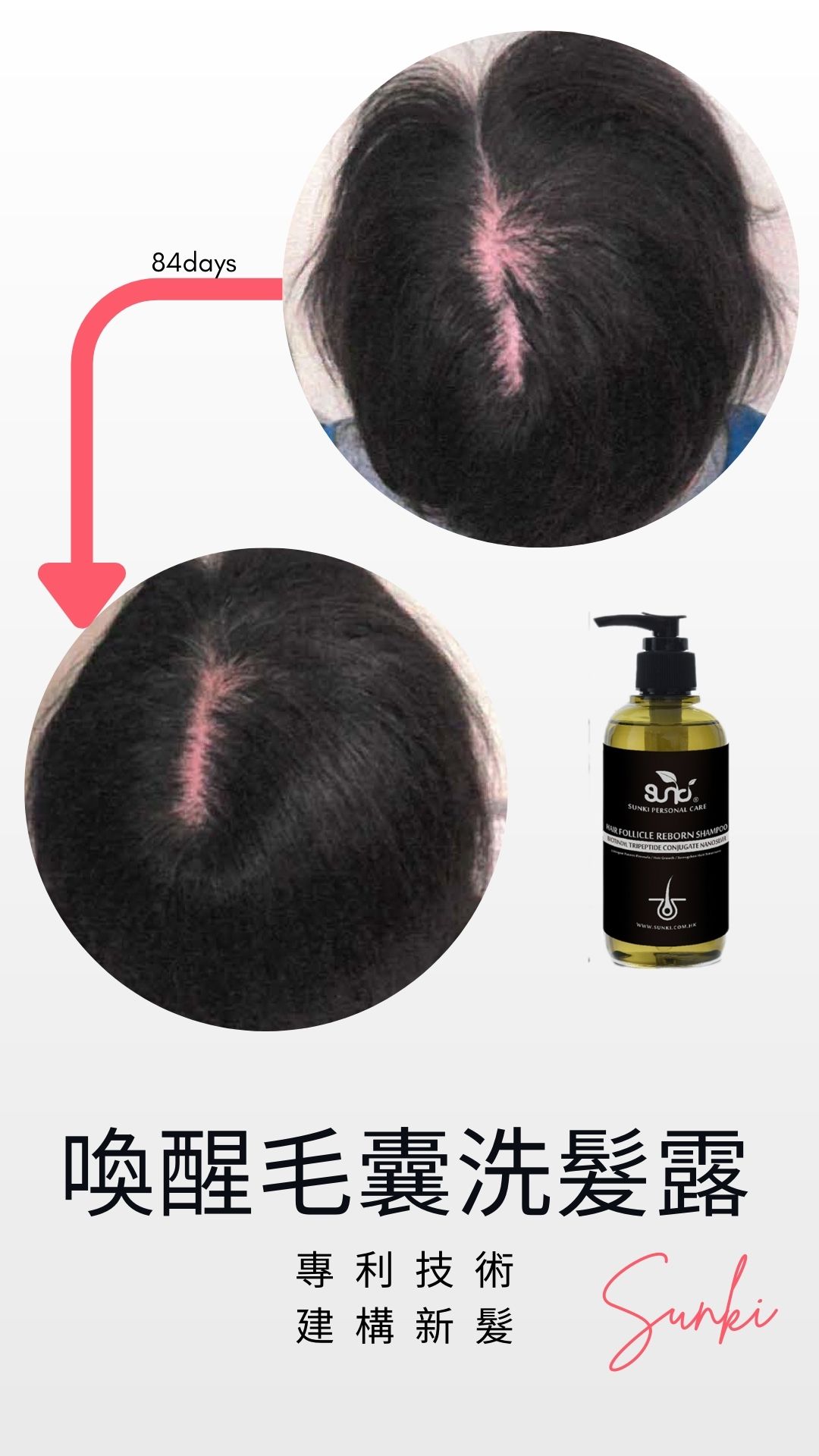 生物素三胜肽共軛納米銀專利配方能有助HFDPC(人類毛囊真皮乳頭細胞)的生長。所謂HFDPC是具有毛髮指揮塔作用的細胞。此細胞的增生和活性化,是長出毛髮、育毛不可缺的細胞。
比黃金貴2倍的「藍銅胜肽」,它可增加血管內皮生長因子(vascular endothelial growth factor, VEGF)的濃度,而 VGEF 被認為和加快頭髮生長以及增加毛髮毛囊有關。同時可促進頭皮血液循環及養分供給,抑制荷爾蒙(DHT)對掉髮的影響,促進毛囊由休眠期進入生長期,並延長頭髮生長期,還能增加毛囊數目並重健毛囊微血管;同時增進頭皮健康,預防掉髮,促進新頭髮長出,幫助新頭髮健康生長。而已它含有銅離子和可因自然蛋白水解的酵素,能使頭髮自然再生,經醫學證實是目前最天然無負擔的外用護理髮絲的方法。
咖啡因可防止引致脫髮的二氫睪酮損害毛髮細胞,並為髮根提供養分,從而幫助預防脫髮。
HOTFLUX是穩定和安全的成分,它是一種油溶性熱感劑,作用於頭部皮膚後,能快速產生溫和持久的熱原效應,包括加快微循環,刺激皮下脂肪代謝,促進毛細管血液循環等。
有機蘆薈可針對髮根稀疏,薄弱,對抗曬傷的髮質,強化新生細髮。
有機摩洛哥堅果油,含豐富不飽和脂肪酸及天然維生素E和F,具有改善乾燥,平衡油脂分泌,促進健康生長。適合所有髮質,天天使用!
無患子萃取液是由野生植物果殼提煉而成,含天然皂素,有效強化頭部皮膚及髮絲自禦、有助改善髮質和脫髮、適合敏感頭部皮膚。還可在用後控油及防止細菌滋生。
薑萃取液可以利用按摩,能夠更加刺激毛囊,增加血液循環和氧化作用,達到促進毛髮生長。
主要成份:純水、椰子油、鹽、無患子萃取、橄欖油、卵磷脂、胺基酸、有機蘆薈萃取、玻尿酸、有機摩洛哥堅果油、有機銀杏萃取液、有機鼠尾草萃取、薄荷油、薑萃取、藍銅胜肽及三胜肽共軛奈米銀及咖啡因。

Specification:
Weight: 299g
Dimensions (LxWxH): 59x59x167 mm
The patented formula of BTCNS™ can help with the growth of HFDPC (human hair follicle dermal papilla cells). HFDPC is a cell that plays a role in hair follicle regulation. The proliferation and activation of this cell are essential for hair growth and hair regeneration.
"GHK-Cu", which is twice as expensive as gold, can increase the concentration of vascular endothelial growth factor (VEGF), which is believed to accelerate hair growth and increase hair follicles. It can also promote scalp blood circulation and nutrient supply, inhibit the effect of DHT on hair loss, promote hair follicles from the resting phase to the growth phase, and extend the period of hair growth. It can also increase the number of hair follicles and rebuild the hair follicle microvascular system. Additionally, it can improve scalp health, prevent hair loss, promote the growth of new hair, and help new hair grow healthily. It contains copper ions and enzymes that can naturally regenerate hair and has been medically proven to be the most natural and burden-free hair care method.
Caffeine can prevent hair loss caused by dihydrotestosterone damage to hair cells and provide nutrients to the hair roots, thereby helping to prevent hair loss.
HOTFLUX is a stable and safe ingredient that is an oil-soluble thermal sensitizer. It can quickly produce a mild and long-lasting heat effect when applied to the scalp, including accelerating microcirculation, stimulating subcutaneous fat metabolism, and promoting capillary blood circulation.
Organic aloe vera can target sparse and weak hair roots, fight sun damage to hair, and strengthen new hair.
Organic Moroccan nut oil contains rich unsaturated fatty acids, natural vitamin E and F, and can improve dryness, balance oil secretion, and promote healthy growth. It is suitable for all hair types and can be used daily.
Soapberry extract is extracted from wild plant fruit shells and contains natural saponins. It can effectively strengthen the scalp and hair's self-defense, help improve hair quality and prevent hair loss, and is suitable for sensitive scalp. It can also control oil and prevent bacterial growth after use.
Ginger extract can be used for massage to further stimulate hair follicles, increase blood circulation and oxidation, and promote hair growth.
Main Ingredients: Purified water, Coconut oil, Salt, Soapberry extract, Olive oil, Lecithin, Amino acids, Organic aloe vera extract, Hyaluronic acid, Organic moroccan nut oil, Organic ginkgo extract, Organic sage extract, Peppermint oil, Ginger extract, GHK-Cu, BTCNS™ and Caffeine.